O RUIDO TERAPEUTIKO DA KLASSE OPERARIA
Mar 10, 2016 - Lisbon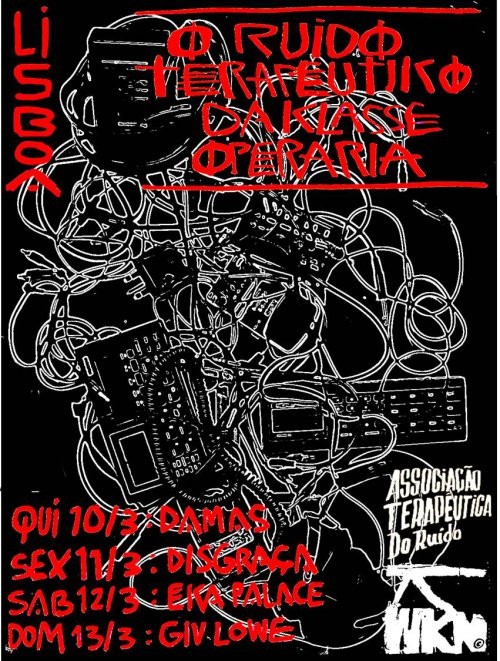 +O RUIDO TERAPEUTIKO DA KLASSE OPERARIA+
A mini-festival of radical experimental electronic music in three nights, ending with a 12-hours of organized chaos. from conceptual noise performances, through more harsh and heavy, groovy, ritual and rhythmic post-industrial sets ending up with the proper beating kicks of breakcore / speedcore / crossbreed / gabber dj sets. Involving international artists gravitating around the network of Workin'Klass Noize [a London-based D.I.Y. label and platform of underground fermentation] and local experimental electronic musician and performers. It's the result of the connection between W.K.N. and Associaçao Terapeutica do Ruido - a really singular occasion to enjoy the current raw expressions of musical and cultural resistance to the standardizing mass culture.
+O RUIDO TERAPEUTIKO DA KLASSE OPERARIA+
Um mini festival de música electrónica experimental radical em 3 noites, a acabar com uma sessão de 12 horas de chaos organizado. desde performances de noise conceptual, passando por umas de natureza mais mexida, pesada e agressiva, e de pós-industrial ritual e rítmico, acabando nos dj sets de batidas estrondosas de breakcore / speedcore / crossbreed / gabber! Involvendo artistas internacionais que gravitam à volta da rede colectiva Workin'Klass Noize [gravadora D.I.Y. e plataforma de fermentação underground baseada em Londres] e musicos e artistas locais relacionados com música eperimental electrónica. Este evento é o resultado entre a colaboração da colectiva W.K.N. e a Associação Terapêutica do Ruído - uma ocasião única para disfrutar das actuais expressões cruas da música e cultura resistentes à estandardização da cultura de massas!
DAY 1 - THURS 10 MARCH
DAMAS - Bar • Sala de Concertos
Rua da Voz do Operário, 60, 1100-621 Lisbon, Portugal
DAY 2 - FRIDAY 11 MARCH
Disgraça
Penha de França, Lisbon, Portugal
DAY 3 - SATURDAY 12 MARCH
EKA Palace
Calçada Dom Gastão nº 12, porta 8, 1900-194 Lisbon, Portugal